The Shapeshifter's Guide to Running Away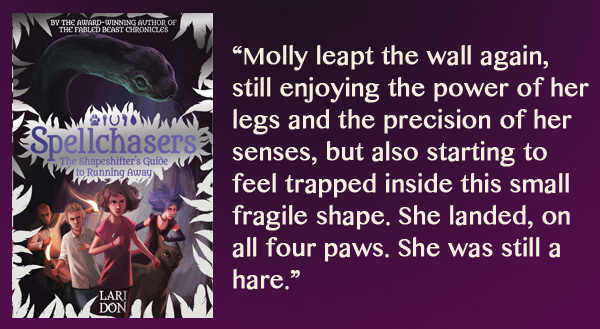 Molly lifted her friends' curses in The Beginner's Guide to Curses, but she still has a few magical problems of her own, and both the witches who might be able to help have gone missing. Also, someone she trusted has just ambushed her…
In the Shapeshifter's Guide to Running Away, Molly discovers the wider world of curses and promises, meets monsters from Scottish mountains and sea, and learns more about her own powers and skills.
I had lots of fun writing the second novel in the Spellchasers trilogy: I felt I really knew Molly, Innes, Beth and Atacama, so it was great to send them off on another adventure, but even better was finally getting to know the fifth member of the Spellchasers team properly, and being surprised by who he turns out to be. Also, Molly and her friends go on a quest to the seaside (no picnics and swimming though, it was all dark caves and shoreline battles) and meet several of my favourite Scottish mythical monsters. Meet them, and defeat them, of course. This book also has my favourite title in the whole series (for which credit has to go to my daughters, who came up with it as a joke doing a tea-time brainstorming session.)
And the first reviews of Shapeshifter's Guide are in!
Here's what one young reader said on Twitter: 'I **llllllooooovvvvvveeeeddd* it !!!!!!!!'
and a bookseller on Facebook: "It's full of so much magical imagination. I felt like I was in the magical ideas equivalent of a sweetie shop!"
If you want to buy The Shapeshifter's Guide to Running Away, here are a couple of links:
OR you could buy it in a real bookshop, from a real bookseller, which is still my favourite way to get a book.
Once you've read The Shapeshifter's Guide to Running Away, it's not that long before you can find out how Molly's adventures end, in The Witch's Guide to Magical Combat, out this August!
---