Fabled Beast Chronicles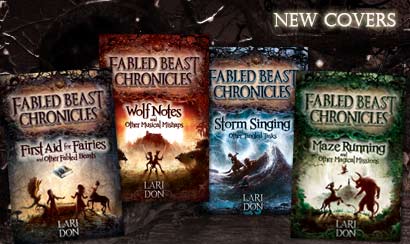 "Now there are so many humans, the fabled beasts that are left must hide in secret places in the folds and on the edges of maps."
First Aid for Fairies and Other Fabled Beasts begins with a vet's daughter finding a bleeding animal on her doorstep, but it's an animal her mother wouldn't believe in. So Helen tries to heal this fabled beast herself, and she is soon involved in a quest for a stolen book, and discovers just how many fabled beasts and magical beings are hiding in the Scottish landscape.
On her first adventure Helen makes friends with a dragon, a selkie, a centaur, a phoenix, and that fairy who needs so much first aid. Then those friends help Helen when she gets into magical trouble of her own in Wolf Notes; they all work together to help Rona the selkie in a competition in Storm Singing, and in their final adventures Maze Running, Helen faces her greatest challenge – to save the life of one of her friends, injured in a trap by their oldest and most ruthless enemy.
I realised once I started writing the series that it's just as well one of the fabled beasts is a big dragon, because the friends travel great distances on their quests: First Aid for Fairies is set in the Borders, Orkney, and Edinburgh; Wolf Notes is set in a Highland Glen and Skye; Storm Singing is set on the wild wet Sutherland coast; and Maze Running returns to the Borders, but also flies to Argyll and Cromarty.
I've been delighted with readers' reactions to the books. First Aid for Fairies and Other Fabled Beasts won the biggest children's book prize in Scotland – the Royal Mail Award in 2009, voted for by thousands of children. And readers have got very involved in the books – demanding that favourite characters missing from one of the series get brought back in the next, and even participating in a competition to choose locations for the last book.
The fantastic covers for all four books are by Manuel Sumberac (it's the second set of covers for the series, and the third cover for First Aid for Fairies!)
I was really sad when I finished Maze Running, and had to say good bye to my favourite characters. (Though it's not really good bye, because they will always be in these four adventures!) And I have lots of fun creating and writing about a new set of favourite characters in the Spellchasers Trilogy!
First Aid for Fairies and Other Fabled Beasts

Helen opens the door one night to find a very strange boy on the doorstep. A boy who needs first aid … from a vet. But Helen's mum, the local vet, only believes in science books and would not believe in this boy, so Helen borrows the veterinary equipment, heals his wound, and finds out how he got injured. She then finds herself involved in a quest for a lost book, a battle by a Borders wood, an ambush in Orkney and a chase through dark tunnels under Edinburgh. She discovers a talent for riddles as well as first aid, and meets many other fabled beasts who live just off the edges of our maps.This was the first children's book I ever wrote, and I wanted to use all the elements I love from adventure stories and fairy tales, but set it in the Scotland I know now. So there are dragons and monsters, spells and riddles, but also violin rehearsals, packed lunches, and a mum who expects the heroine to go to bed at a sensible time. I was really delighted that First Aid for Fairies and Other Fabled Beasts won the the Royal Mail Awards in 2009, voted for by readers!
Wolf Notes

In the sequel to First Aid for Fairies and Other Fabled Beasts, Helen's musical skills put her in deadly danger, and to escape she has to work with fabled beasts who aren't friendly or trustworthy, and who certainly aren't vegetarian! Wolf Notes is set on the edge of a forest in the Highlands, and includes a night-time dragon flight to Skye, breaking and entering a castle, some lifesaving jam sandwiches, and, of course, a pack of wolves.I had a brilliant time writing this book, researching wolves, ancient Celtic heroes and sword fights. I also really enjoyed spending more time with Helen, Yann and the other fabled beasts. And this time Helen isn't just helping her friends solve their problems, she's the one in danger, which made it even more exciting to write. Also it gave me an excuse to have fun in forests and spend a week in Skye.
Storm Singing

Storm Singing is the third book in the First Aid for Fairies series. It's set on the north coast of Sutherland, using the cliffs, caves, islands and waves of that most isolated and least populated part of Scotland, so for the first time the fabled beasts can get out and have adventures during the day. And I was able to write cliffhangers set on actual cliffs! Rona the selkie returns in this book, taking on coastal contests and tasks, with the help (mostly) of Helen and the other fabled beasts. I think I put my favourite characters in the most difficult situations I've ever invented in this adventure, and I also had a huge amount of fun creating the baddie for this book. It's pink. Honestly.
Maze Running

Maze Running is the fourth and final book in the First Aid for Fairies series. One of Helen's friends is mortally wounded when they refuse to work for the Master, so the fabled beasts must search Scotland's most magical locations for a healing token. But who will really benefit if they find it, and who is trying to stop them?This is the last book about Helen and the fabled beasts, and I hope I've given them a great adventure as their farewell. It's not been easy to say good bye to them, but after sending them up against baddies at midsummer, the autumn equinox and midwinter, I felt that one more challenge at the spring equinox was all I could ask of them!
Ebook
---
If you want to read all four books in a oner, you can buy the series as an ebook: buy now >