The Beginner's Guide to Curses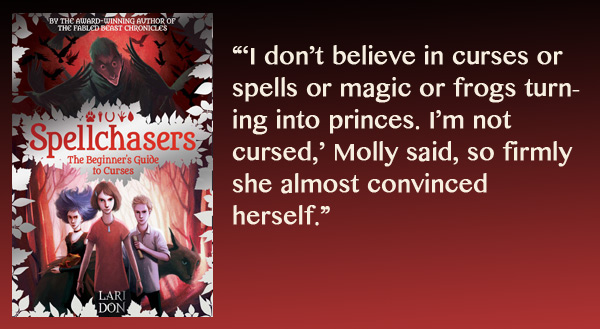 The first novel in the Spellchasers trilogy is about a girl called Molly, who annoys one of her aunt's neighbours and is cursed to turn into… well, I'm not going to tell you what she becomes (though I suspect you can now find spoilers all over the rest of my website!) but her new shape isn't human, or convenient, or safe. So she finds herself enrolled on a curse-lifting workshop, where she meets a boy who changes shape for fun, a girl who talks to trees, a large black cat with wings, and a toad that no one knows anything about. The curse-lifting workshop is run by a witch, who expects the students to spend all day digging up the tatties on her farm, and all night doing dangerous homework.
So that's how Spellchasers: The Beginner's Guide to Curses starts. It continues with high-speed chases, grumpy crows, sleeping wyrms and nettle knickers.
And you can read more of Molly's curse-lifting adventures in the second of the Spellchasers trilogy, The Shapeshifter's Guide to Running Away, which is out now, and in the third and final novel The Witch's Guide to Magical Combat, which is published in August 2017.
Here's how to buy The Beginner's Guide to Curses:
From my publishers
Or from Amazon
Or of course, you could buy the book in a real bookshop, from a real bookseller. It's still my favourite way to do it…
And here are a few reviews for The Beginner's Guide to Curses
'Absolutely brilliant. An exciting novel, extremely magical.'
— Isabel, age 9
'This is a great book for those who enjoy a heart-racing and mythical story.'
— Isobel, age 10
'A girl who turns into a hare when a dog barks, dark magic, curses and an adventure. What more could you want from a book?'
— Tomasz Hawryszczuk, age 11 for LoveReading4Kids
'This is the first compelling volume in the Spellchasers trilogy, where magic sits convincingly alongside everyday life. Packed full of good and dark magic, sacrifice and treachery, friendship and loyalty, this exciting page-turner will have readers gripped from the start.'
— BookTrust
'A rollicking introduction to a fantasy trilogy set in Scotland… From the first word, readers are dropped straight into the lively action, with nary a breather until the final page turn. Colloquialisms such as "howk the tatties" (dig potatoes), "a bit of a cheek" (impertinence), and "daft" (silly) and British-English spellings ad realism (such as it is) and anchor the story to its Scottish countryside setting. A real treat.'
–Kirkus reviews