Spellchasers Trilogy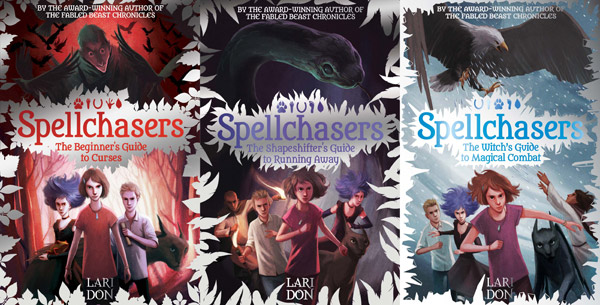 The Spellchasers trilogy is a first for me. It's the first time I've written three books all at once, with a connected story that gets bigger and more exciting from the start of the first book right through to the end of the last one. (The Fabled Beast Chronicles are four separate stories, really, with the same characters each time.)
The trilogy is about a girl called Molly Drummond, who has been cursed by an angry witch to turn into a hare whenever she hears a dog bark. Her concerned aunt enrols her on a curse-lifting workshop, where she meets a squabbling group of young magical beings and fabled beasts, all trying to lift their own curses, all forced to lift a harvest of potatoes as part of their homework. Then, the crows appear…
Writing a trilogy has been the most exciting, most demanding, most difficult thing I've ever done as a writer. There have been lots of challenges (for example, trying to keep the plots of all three books in my head at once) and lots of fun (for example, coming up with these three linked titles).
The Beginner's Guide to Curses
The Shapeshifter's Guide to Running Away
The Witch's Guide to Magical Combat
Click on the titles to find out more about each book, and how to buy them…
One of the best parts of writing the Spellchasers trilogy, was that these three adventures (or one long adventure, depending on how you look at it) are set in Speyside, in the North East of Scotland, where I was brought up. And when I was imagining the story, I was inspired by the landscape and trad tales I remember from my childhood. Though I never actually met a sphinx while digging up tatties, or had an argument with a kelpie while on a quest…
You can find out more about the writing of the trilogy in various posts marked Spellchasers on my blog
The covers of all three books are by Jordi Solano – I think they look very exciting and adventurous. I especially love the looming baddies at the top of each book, and the fabulous colours!
Here are a few reviews of Beginner's Guide, from readers who want to know what happens next!
'This book is an exciting fantasy quest with a lot of twists. Reading all of Lari Don's books has made me love books more than ever. The end is super exciting and I can't wait for the next one because there's some things I want to find out.'
— Lucy, age 8
'Very nicely entertaining tale about curses, and about unselfish behaviour. Or selfish behaviour, if you wish. I'm expecting more books, as there is plenty more magic to be sorted out.'
— Bookwitch
'A lot of action and adventure as well as a good dose of magic and mystery. This is a great read and I look forward to the next two books.'
— Margaret Pemberton, Books for Keeps