Lari Don - Children's Writer
The Secret of the Kelpie
OUT NOW!
"Every loch in Scotland, however beautiful, has its dark cold depths. And every loch in Scotland has its kelpie. But it's easy to forget those dangers on a sunny afternoon."
What would you do if you found a beautiful white horse on the shores of a loch?
find out more >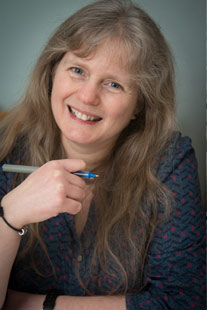 Welcome
I'm a children's writer based in Edinburgh, and I'm extremely excited about my very newest book, The Secret Of The Kelpie, a retelling of the beautiful and monstrous Scottish story of the kelpie, illustrated by the wonderful Philip Longson.
If you want to find your own kelpie, why not check out the amazing kelpie map my publishers Floris Books created (mostly from all my kelpie research!) showing lots of kelpie story locations round Scotland, with little snippets of the stories.  Careful – there might be a kelpie near you!
And I'm three times as excited by the adventure trilogy that will be published soon – it's called the Spellchasers trilogy, and you can find out more here!
I'm not the kind of writer who sits at my computer all day – I spend a lot of time out and about in schools and bookshops and libraries chatting about books and writing. You can find out where I'll be on my diary page.
But you can find me online too! You can watch me tell my favourite Scottish fairy tale (another version of Tam Linn); you can see me read (and act out) Orange Juice Peas, in this film; as well as watch a really fabby  trailer for Maze Running, or watch an interview about writing adventure books. And if you want some hints and tips about creative writing, I've written a series of blog posts for the Scottish Book Trust which might give you some ideas! I also blog for An Awfully Big Blog Adventure on the 30th of every month.
You can use this website to find out more about all my books, my writing and my storytelling.  I also write a child-friendly blog about my events and my writing, which you can comment on or link to. Or you can find me on Facebook, and follow me on Twitter and Tumblr.
You can get in touch with me to invite me to visit your school, library or local arts festival to talk about my books and writing, and to share some of my favourite myths and legends. You can also, if you really want to, find out where I was born and what my cats are called. Have fun, and if you have any questions, please email me.
Tweets by @LariDonWriter