Lari Don - Children's Writer
Serpents & Werewolves,
Out Now!
… they tripped and stumbled, and started to run on four legs not two. Their fine clothes became ragged and grey and hairy, and the fabric stuck to their skin like fur. They screamed in terror until their screams became howls….
Becoming a werewolf is not always fun!
find out more >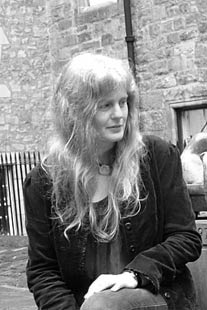 Welcome
I'm a children's writer based in Edinburgh, and I'm very excited about all the new books that will be coming out this year – you can get a sneaky peek at my next books here.
I'm not the kind of writer who sits at my computer all day – I spend a lot of time out and about in schools and bookshops and libraries chatting about books and writing. You can find out where I'll be on my diary page. (Though because I'm still writing some of this year's books, I might be doing slightly fewer events for the next few months… )
But you can find me online too! You can watch me tell my favourite Scottish fairy tale (another version of Tam Linn); you can see me read (and act out) Orange Juice Peas, in this film; as well as watch a really fabby  trailer for Maze Running, or watch an interview about writing adventure books. And if you want some hints and tips about creative writing, I've written a series of blog posts for the Scottish Book Trust which might give you some ideas! I also blog for An Awfully Big Blog Adventure on the 30th of every month.
You can use this website to find out more about all my books, my writing and my storytelling.  I also write a child-friendly blog about my events and my writing, which you can comment on or link to. Or you can find me on Facebook, and follow me on Twitter and Tumblr.
You can get in touch with me to invite me to visit your school, library or local arts festival to talk about my books and writing, and to share some of my favourite myths and legends. You can also, if you really want to, find out where I was born and what my cats are called. Have fun, and if you have any questions, please email me.