Lari Don - Children's Writer
The Witch's Guide to Magical Combat

OUT NOW!

"Molly Drummond was used to suddenly becoming small and fast. But suddenly becoming small and slow, that was new and scary."
The third book (and best cover?) in the Spellchasers trilogy. With new baddies, a new member of the Spellchasers team, a strange new twist to Molly's curse, a huge new magical problem, lots more spells and chases and danger...
find out more >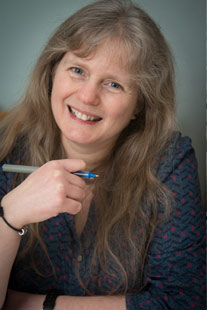 Welcome
I'm a children's writer based in Edinburgh, and I'm extremely excited about my new novel Spellchasers: The Witch's Guide to Magical Combat – it's the final book in my first ever trilogy, it's just been published and I can't wait to hear what readers think of Molly's new and even more dangerous adventures!
I'm not the kind of writer who sits at my computer all day – I spend a lot of time out and about in schools and bookshops and libraries chatting about books and writing. You can find out where I'll be on my diary page.
And you can find me doing interviews, book trailers, blog posts, storytellings and readings online too!
You can use this website to find out more about my books, my writing and my storytelling.  I also write a child-friendly blog about my events and my writing, which you can comment on or link to. Or you can find me on Facebook, and follow me on Twitter and Tumblr.
You can get in touch with me to invite me to visit your school, library or local arts festival to talk about my books and writing, and to share some of my favourite myths and legends. You can also, if you really want to, find out where I was born and what my cats are called. Have fun, and if you have any questions, please email me.
If you notice any little mistakes on this website, that's probably because my webmaster Amanda and I are trying to update it right now (when we designed it, I didn't expect to write 30 books in 8 years, and it's becoming a many-tentacled monster…) so please forgive any little errors. If you see any HUGE problems, let me know though, and I'll fix it as fast as I can!