A new book!  With a new monster!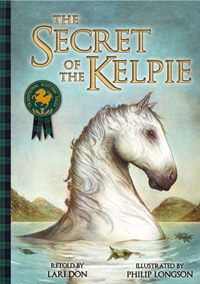 My first book of 2016 has just been published!  The Secret of the Kelpie is a picture book retelling the story of the Scottish kelpie – the shape-shifting, child-eating water-horse.
I did the research and wrote the words, and the fiendishly talented Philip Longson did the gorgeous scary illustrations.
The Secret of the Kelpie is about a family who meet a beautiful horse by the side of a loch and realise too late that the horse is a kelpie who plans to drag them into the water, to drown them and eat them… So the littlest sister Flora has to discover the kelpie's secret and try to save her big brothers and sisters.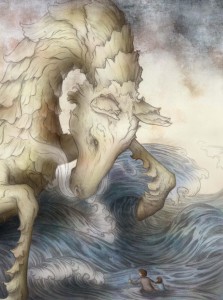 I had to do lots of research to find out about the kelpie's powers and the kelpie's secret. And I found out that there are lots of different kelpie stories from lots of different parts of Scotland, and that kelpies in different places are different colours (white, gold, black…) and like to eat different people (children, fishermen, young women, married couples…) I discovered that some kelpies like their home comforts (one kidnapped a stone mason to build him a fireplace), that some kelpies are good at building themselves (there are bridges and churches and mills apparently built by kelpies), that some kelpies can grow bigger to fit more children on their backs and that some kelpies can be defeated by… actually, that's a secret.
I was surprised to discover that not all kelpie stories are set by remote lochs in the Highland and Islands.  There are great kelpie stories from the east too – from Angus and Aberdeenshire for example.
But now I had far too much kelpie research for one picture book.  (Writers often end up with far more research than we need, unless we want our book to be a list, rather than a story.) But luckily, the research I did has also resulted in a MAP so that you can go on a kelpie hunt too!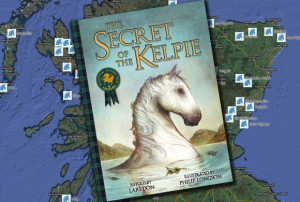 My lovely publishers Floris have created an interactive map so that you can see all the locations in Scotland where kelpie stories are told, and click on the horse's head in any location to read a snippet of the kelpie lore from that place.
So, why not find out about the kelpies nearest you, and see if you can go on a kelpie hunt during the Easter holidays or some weekend?
But if you meet a beautiful horse, be VERY VERY careful…
PS – But I have another even more exciting use for all my kelpie research, because one of the main characters in the Spellchasers trilogy (see previous blog post) is a kelpie, with a few different powers, and lots of different secrets! But you'll have to wait til August to find out about him…